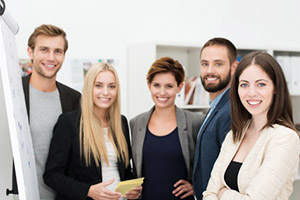 OUR TRAINERS ARE OUR STRENGTH
We motivate our trainers by treating them with dignity and respect, and offering them the highest rates of payment in the industry. We expect our trainers to work independently and proactively to ensure that our clients remain satisfied. In some cases we can offer bonuses for long-term commitment and quality, plus profit-share arrangements for those who introduce clients to HPE.
HPE trainers typically have:
University degrees
TEFL qualifications and teaching experience
Business and life experience
A sense of humour
Unlimited enthusiasm
Excellent people skills
Professional appearance and grooming
High levels of organisation and preparation
MEET A FEW OF OUR TRAINERS

ALYSSA
From California, USA
B.A. in History, Cambridge TKT and TEFL English teaching certificates, currently looking to undertake a Masters degree
"HPE treats me more as a partner than simply an employee. I have felt valued and rewarded working for HPE both in financial compensation and professional satisfaction. I have the independence and support to create my own material with confidence, and it is wonderful to work with motivated students who can apply my lessons directly to their daily life."

DEBORAH
From New Zealand
B.A. in Sociology, Law degree, Cambridge TKT English teaching certificate, currently completing a certificate of business
"Working with trust and transparency, HPE gives me the perfect balance of support and autonomy to be the best trainer I can be. This makes my work a pleasure and our clients notice the difference too. HPE is the only language school I have worked for which genuinely develops a new tailored course for every client or group. As no two courses are the same, I am constantly developing my content, resources and training style."

SHELLEY
From New Jersey, USA
M.B.A., B.A. in Politics, TEFL English teaching certificate
"Although I own a great deal of business experience from my previous corporate career in telecommunications, teaching English to business professionals was a challenge at first. But since HPE provides exceptional support for its trainers I quickly gained the confidence to work with clients of all management levels. I appreciate the independence to develop my own customized training plans based on my clients' needs and I enjoy the trusting relationships I built with my clients, especially in 1:1 trainings. I also learned a lot about different industries and cultures, which I consider valuable for my future development.
Working at HPE is a rewarding and enjoyable experience that I would highly recommend."

NICK
From Western Australia
Currently Managing Director of a Logistics company. Previously professional musician, sales manager, member of the Australian military and CELTA-qualified English trainer for HPE.
"I worked for HPE for over 5 years for various clients across Hamburg before returning to Australia, and would happily do so again if I returned to Germany. We enjoyed a relationship based on mutual respect and now happily count the HPE team as friends.
I would recommend them to anyone both as employers and providers of training services."